Providing specialist accountancy and financial services for the legal sector
Our team of experts are on hand to provide you with the financial solutions and advice you need.
Understanding the unique tax rules and requirements that face the legal profession requires specialist knowledge and expertise. At Forrester Boyd, we have a team of professional advisers who have many years of expertise providing accountancy services to law firms and to legal professionals such as barristers and advocates.
Keeping on top of your professional finances and ensuring compliance with the complex tax rules that govern the legal profession, is something that we can help with. As trusted partners and advisers to a large number of legal professionals for over 85 years, you can rest assured that we have your best interests at heart.

Services for law firms
Our advisers work closely with you to ensure that you are in compliance with all the relevant tax laws and regulations, particularly those that are unique to the legal sector. These include services such as:

Financial management, reporting and analysis
SRA accounts
Trust accounting
Billing and collections
Cashflow and forecasting
Outsourcing services
Consulting services
Corporate Finance
Services for Legal Professionals
We have the specialist knowledge and expertise to support legal professionals which includes:
Understanding the unique tax rules
Managing your accountancy
Managing your tax
Managing your personal wealth
Keeping on top of your professional finances
Ensuring compliance with complex tax rules
Challenges facing the legal sector
The legal sector is facing a rising number of challenges. We work closely with our legal clients to help address these issues and minimise the impact upon their business. Some of these challenges include:
Technology – the rise in AI and the use of technology in legal services is changing the way many businesses operate. For those early adopters, it is making their business more efficient and streamlined which possesses a risk to those unable to be as responsive to change.
Cost of legal services – rising costs of legal services and the increase in the cost of living is making it harder for people to afford legal representation. With the increasing amount of information available online, many people are turning to the internet rather than a trusted professional.
Changing client needs – clients are looking for more transparency which in turn leads to more work for legal professionals. They also want faster responses, not only to their initial enquiries but throughout the whole matter.
We can help to look at efficiencies and productivity and provide advice on ways to improve these areas and minimise the impacts of threats and challenges that are facing the legal sector.
Solicitors Accounts Rules (SAR)
The SAR applies to all solicitors and law firms that hold client money in connection with legal services. In most cases you will require an accountant to prepare this.
At Forrester Boyd, our team of Lincolnshire-based accountancy specialists are here to help provide Solicitors with a fully comprehensive service including SAR Audits and Solicitors Accounts Rules Accountants Reports.
We provide tailored support and advice to deal with the unique requirements of law firms and SAR's is no exception. We comprehend the SAR's Account Rules and how they apply to each different type of practice within the legal sector. Through strong and consistent communication with our clients, we ensure effective compliance so accounts contain all required information and are supported by the correct paperwork. We can provide guidance on the Accounts Rules and we know the common breaches and how to avoid them.
Download our latest Legal newsletter for more information on what's going on in the sector.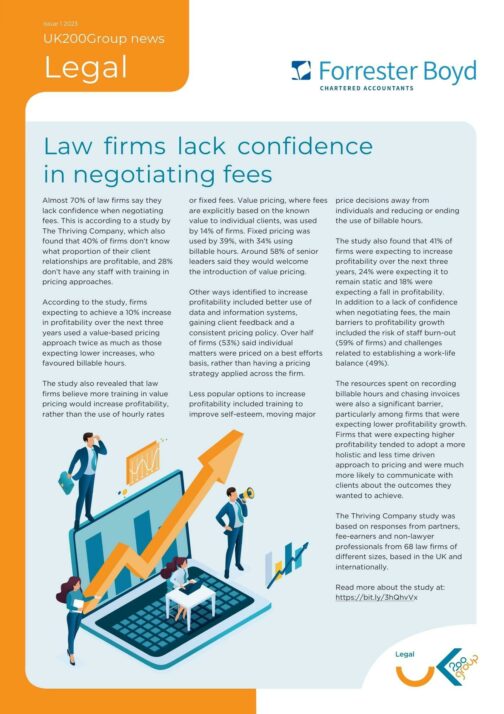 Link to download Financial Solutions Front Cover guide
Free download
Download our FREE guide and find out more about the financial services we provide for legal pro...
Download now
Can we help you with anything?