Supporting the businesses that support the vulnerable
The charity sector is a highly regulated area, which often faces financial challenges. With years of experience in the charity and not for profit sector, we are committed to keeping up to date with the latest changes to provide the most relevant advice.
Our team has a wide range of specialists who can help in all areas including VAT, PAYE, tax, payroll, HR and wealth management.
We understand that, in the current climate, it is important for charities to overcome funding pressures to provide the best support to their beneficiaries. The foundation for this is ensuring the trustees and senior management have the information they need to comply with the increasing regulatory pressure, whilst managing funds to ensure sufficient reserves are held.
We pride ourselves on providing proactive, practical advice to our clients. By coming to Forrester Boyd, you can relax in the knowledge that your finances are taken care of, leaving you to focus on what is most important.
Charities & Education newsletter
Download our FREE Charity and Education guide for more information on how we can support you and what we can achieve together.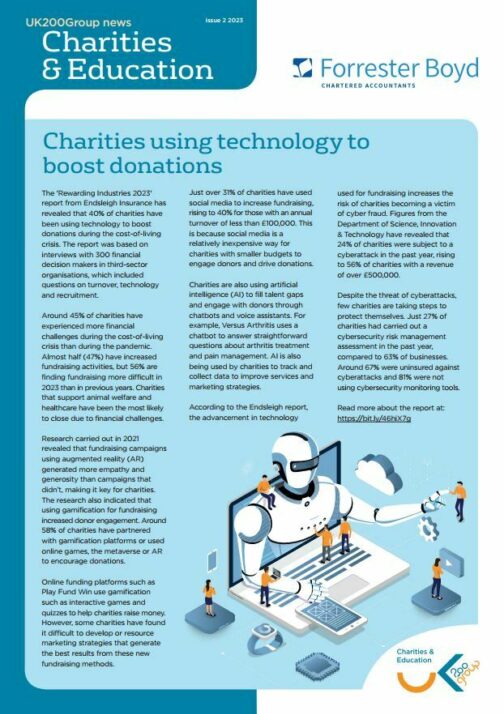 How we can help
Our experts can provide support to trustees in the following areas:
Statutory audit
Independent examinations
Charity registration
Grant audits
Advice on implementation of internal controls
Help choosing accounts software
Gift aid procedures
Link to download Charities brochure guide
Free download
Download our FREE guide to Charities & Education for more information on how we can support you...
Download now
Can we help you with anything?