Forrester Boyd announce new intake of trainees
We are happy to announce the addition of three new trainee accountants to our 2023 intake.
These trainees, hailing from various parts of Lincolnshire and East Riding of Yorkshire, are enthusiastic about beginning their careers in accountancy with the firm.
Ben Cain, a former pupil at Tollbar Sixth Form College, joined our Louth branch in August and is already looking forward to fulfilling his potential and applying his skills and interests. Ben said, 'There's a great support network at Forrester Boyd which you need to have when balancing studying and working day-to-day. There is plenty of opportunities at the firm for me to grow and I see myself staying here for a very long time.'
Otis Arya, who studied Accounting, Sport and Geography at A Level, joined our Scunthorpe branch in July. Otis said, 'With Forrester Boyd being one of the leading accountancy firms in Lincolnshire, in addition to how they provide degree-level apprenticeships which provide valuable experience, it was an easy choice to join the firm after completing my college education.'
The firm's Beverley branch also welcomed, former South Hunsley student, Luke Drinnan who joined in August. Luke said, 'Forrester Boyd appealed to me due to the opportunity to begin my career and gain experience while working towards achieving my accountancy qualifications. I feel that Forrester Boyd provide a high quality training programme and offer great progression within the firm.'
Carrie Jensen, Partner said 'We are incredibly excited to bring in three new faces to our firm this year, all with incredible potential. There are exciting training opportunities made available every year at Forrester Boyd as part of our highly-regarded training programme, so it's great to see three ambitious individuals taking advantage of these opportunities.'
Forrester Boyd's training programme has been instrumental in nurturing and developing top talent in the region. Many of the firm's current partners began their careers through this programme, highlighting Forrester Boyd's commitment to offering valuable and high-quality opportunities to local talent.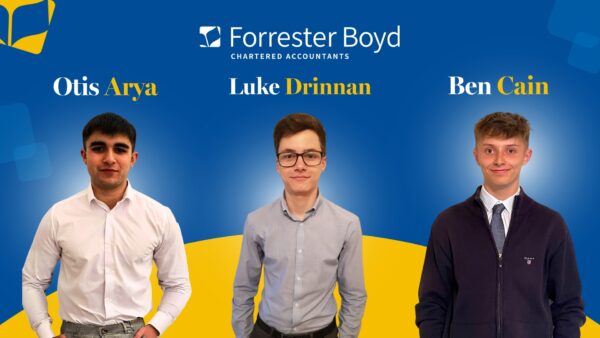 All data and figures referred to in our news section are correct at the date of publishing and should not be relied upon as still current.