Bookkeeping
For many businesses, especially those without an in-house accounts department, time spent on bookkeeping can be a real drain. Not only is this a burden we can take off your shoulders, we will also ensure your accounts are kept fully up-to-date and in compliance with statutory regulations. If you are happy doing your own bookkeeping our in-house team can also provide on-site training to ensure your accounts are set-up efficiently and you have the support and knowledge to manage your accounts effectively. All businesses are individual, as is our approach to our services so we can tailor a package to suit your personal needs.
If your need is for higher level support we are able to help with that as well. Why not talk to us about management accounts, providing you with expert advice in relation to your cash flow management, profitability, credit control and much more.
Payroll
Keeping up with changes in legislation relating to employment, pensions and taxation can be a minefield to negotiate and a burden on you and your business. Why not free up time to focus on your business or family and let Forrester Boyd's payroll team take care of your payroll processing. Our team can administer your payroll in its entirety, even if you only have a few employees. We offer you a comprehensive service giving you the peace of mind that your legal obligations are met and your payroll responsibilities are taken care of by specialists.
Team up these services with, VAT returns, bank reconciliations and annual accounts and you really do have all the financial services that you need at your fingertips.
Cloud Accounting
Whether you're a small starter business or a larger complex one, ensuring your accounts are under control should be one less hassle to worry about. Cloud-based accounting software is designed to make day-to-day bookkeeping simple and flexible giving you the control to manage VAT, payroll and stock without the need for all the accounting knowledge.
As recognised advisers for Quickbooks and Xero we can also assist with software solutions to streamline your accounting systems and move you into digital compliance.
Cloud Accounting offers you a whole range of value added benefits.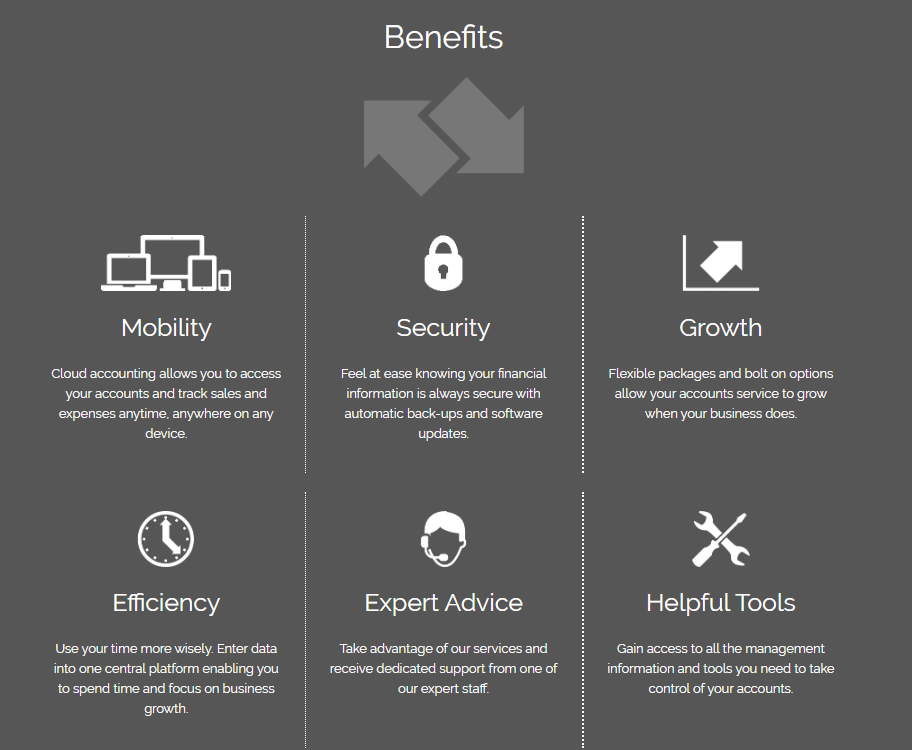 Packages
Our flexible service enables you to change packages according to your circumstances, putting you in charge. Once you have chosen the package that suits you, we will break down the total cost into convenient monthly payments
Other services to consider:
VAT Returns
Cloud Accounting
Management Accounting
Annual returns